you can make a difference
Dark Sky Communities are Safer & Healthier
Effects on Wildlife & Ecosystems
For billions of years, all life has relied on Earth's predictable rhythm of day and night. It's encoded in the DNA of all plants and animals. Humans have radically disrupted this cycle by lighting up the night. Plants and animals depend on Earth's daily cycle of light and dark rhythm to govern life-sustaining behaviors such as reproduction, nourishment, sleep and protection from predators. Scientific evidence suggests that artificial light at night has negative and deadly effects on many creatures including amphibians, birds, mammals, insects and plants.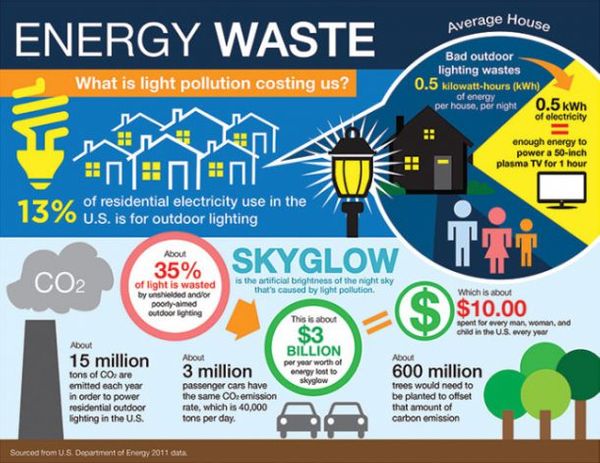 International Dark-Sky Association
Energy & Money Waste
Lighting that emits too much light or shines when and where it's not needed is wasteful. Wasting energy has huge economic and environmental consequences. In an average year in the U.S. alone, outdoor lighting uses about 120 terawatt-hours of energy, mostly to illuminate streets and parking lots. That's enough energy to meet New York City's total electricity needs for two years. IDA estimates that least 30 percent of all outdoor lighting in the U.S. alone is wasted, mostly by lights that aren't shielded. That adds up to $3.3 billion and the release of 21 million tons of carbon dioxide per year. To offset all that carbon dioxide, we'd have to plant 875 million trees annually.
Environmental responsibility requires energy efficiency and conservation:
Installing quality outdoor lighting could cut energy use by 60–70 percent, save billions of dollars and cut carbon emissions.
Outdoor lighting should be fully shielded and direct light down where it is needed, not into the sky.
Fully shielded fixtures can provide the same level of illumination on the ground as unshielded ones, but with less energy and cost.
Unnecessary indoor lighting – particularly in empty office buildings at night – should be turned off.
Lighting, Crime & Safety
There is no clear scientific evidence that increased outdoor lighting deters crimes.
It may make us feel safer, but has not been shown to make us safer.
A 2015 study published in the Journal of Epidemiology and Community Health found that streetlights don't prevent accidents or crime, but do cost a lot of money. The researchers looked at data on road traffic collisions and crime in 62 local authorities in England and Wales and found that lighting had no effect, whether authorities had turned them off completely, dimmed them, turned them off at certain hours, or substituted low-power LED lamps. According to the study, "[W]hen risks are carefully considered, local authorities can safely reduce street lighting saving both costs and energy … without necessarily impacting negatively upon road traffic collisions and crime." According to a 2011 study of London street lighting and crime, there is no good evidence that increased lighting reduces total crime." A 1997 National Institute of Justice study concluded, "We can have very little confidence that improved lighting prevents crime." The truth is bad outdoor lighting can decrease safety by making victims and property easier to see. A Chicago Alley Lighting Project showed a correlation between brightly lit alleyways and increased crime.
Glare from bright, unshielded lights actually decreases safety.
Most property crime occurs in the light of the day.
Some crimes like vandalism and graffiti actually thrive on night lighting.
A dark sky does not necessarily mean a dark ground. Smart lighting that directs light where it is needed creates a balance between safety and starlight.
Night Sky Heritage
The nighttime environment is a precious natural resource for all life on Earth, but the glow of uncontrolled outdoor lighting has hidden the stars and changed our perception of the night. Until recently, for all of human history, our ancestors experienced a sky brimming with stars – a night sky that inspired science, religion, philosophy, art and literature, including some of Shakespeare's most famous sonnets. The natural night sky is our common and universal heritage, yet it's rapidly becoming unknown to the newest generations. Van Gogh painted his famous "Starry Night" in Saint Rémy, France, in 1889. Now, the Milky Way can no longer be seen from there. If he were alive today, would he still be inspired to paint "Starry Night"? Experiencing the night sky provides perspective, inspiration, and leads us to reflect on our humanity and place in the universe. The history of scientific discovery and even human curiosity itself is indebted to the natural night sky.
Without the natural night sky we could not have:
Navigated the globe
Walked on the Moon
Learned of our expanding universe
Discovered that humans are made of stardust
effects on Human Health
Exposure to Artificial Light at Night Can Harm Your Health
Humans evolved to the rhythms of the natural light-dark cycle of day and night. The spread of artificial lighting means most of us no longer experience truly dark nights. Research suggests that artificial light at night can negatively affect human health, increasing risks for obesity, depression, sleep disorders, diabetes, breast cancer and more.
Circadian Rhythm and Melatonin
Like most life on Earth, humans adhere to a circadian rhythm — our biological clock — a sleep-wake pattern governed by the day-night cycle. Artificial light at night can disrupt that cycle. Our bodies produce the hormone melatonin in response to circadian rhythm. Melatonin helps keep us healthy. It has antioxidant properties, induces sleep, boosts the immune system, lowers cholesterol, and helps the functioning of the thyroid, pancreas, ovaries, testes and adrenal glands. Nighttime exposure to artificial light suppresses melatonin production.
Not All Artificial Light Is Created Equally
Exposure to blue light at night is particularly harmful. Unfortunately, most LEDs used for outdoor lighting — as well as computer screens, TVs, and other electronic displays — create abundant blue light.